Application Tracking Systems and ATS Myths Busted
The below sections are part of Chapter 2: The Hiring Pipeline in The Tech Resume Inside Out book.
Application Tracking Systems
Applicant Tracking Systems (ATSes) are a tool many candidates speculate about, and ask the question: do ATSes reject resumes? Spoiler: they do not. Humans do.
Some of the most popular ATS systems used by tech companies are iCIMS, Taleo, Greenhouse, Workable and Workday. There are more than 100 ATS systems, and more entering the market over time. While a few never, niche ATS systems are starting to offer more advanced functionality with resume parsing, as of 2020, none of the major ATS systems reject resumes automatically, or hide them from recruiters. Resume processing for all, major systems is basic. Most of the added ATS functionality is outside the resume processing phase, and with how these systems integrate with other company internal systems, and help with reporting.
The purpose of an ATS is to help coordinate the application process, for recruiters within the company. It keeps track of the status of applications, and exposes this information to all recruiters. For example, this is how a sourcer will know not to reach out to a candidate who is currently interviewing with the company, or someone who has recently declined an offer.
Here is how a popular ATS, iCIMS displays candidates in the hiring pipeline for a specific position —people who applied on the career page, who have been referred, or who have been sourced and added by a recruiter:


The pipeline view in the iCIMS ATS: one of the popular ATS systems. Recruiters need to review the candidate to process. This usually means them scanning the resume.
The ATS workflow is human-based and goes roughly like this: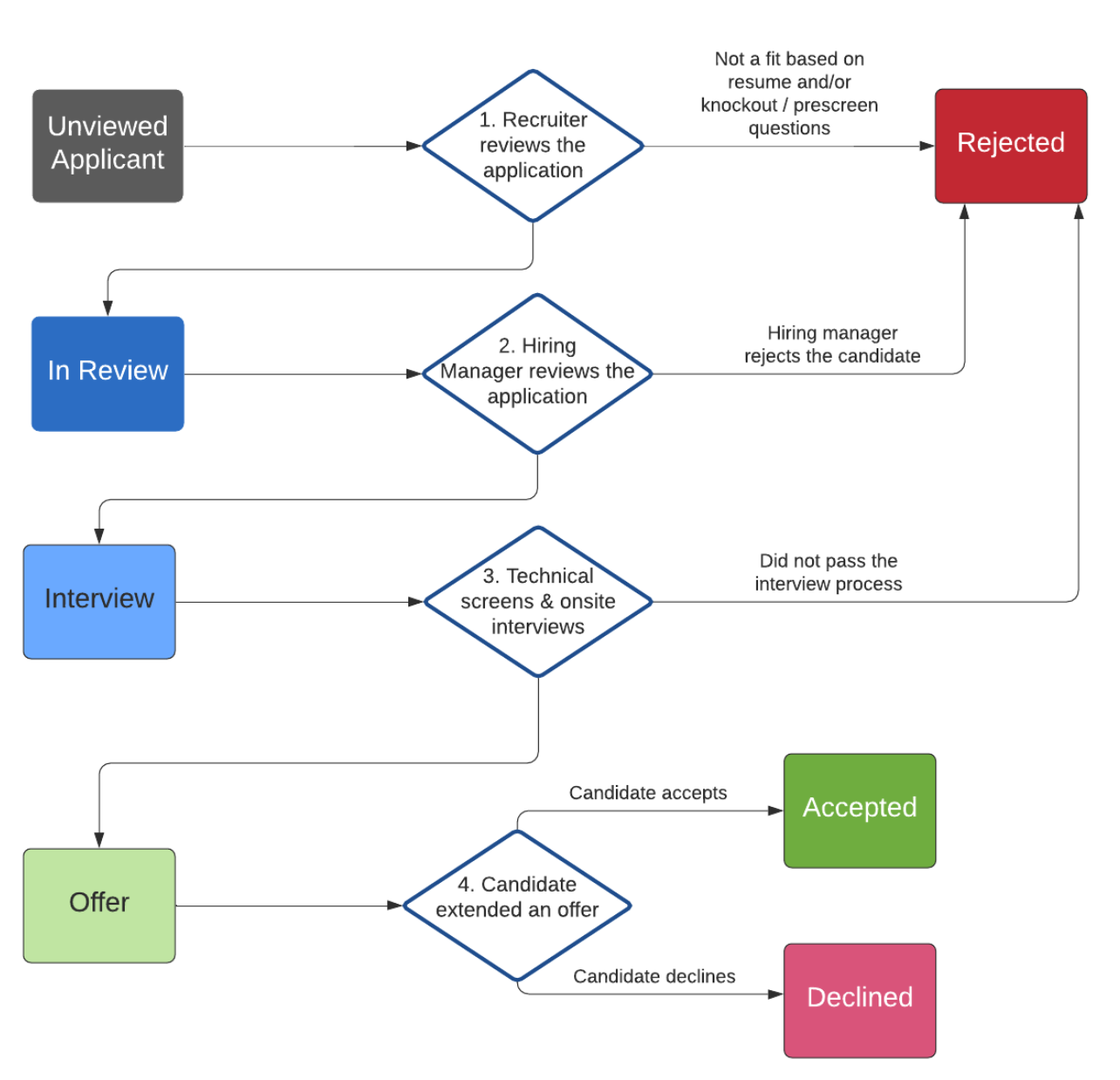 A typical Application Tracking System workflow. The ATS helps keep track of the status of each applicant. Very handy, when you have more than a few people applying!
Boxes are statuses that represent the status of the application. It starts as "Unviewed applicant", and will eventually become "Rejected", "Accepted" or "Declined". People - recruiters or hiring managers - move the status between one status, to another. For example, after a recruiter reviews the resume and the application, they will either move the status to "In Review" or "Rejected". The statuses and the workflows can be different for each company. A big focus in the functionality for ATSes is the flexibility of setting these up.
For a more detailed explanation on how an ATS system works, see the video The Truth About the ATS (it's not what you think) from Amy Miller. Amy is an experienced tech recruiter and the author of the Recruiting in Yoga Pants blog. She has recruited at Amazon, Google and Microsoft and shares the "behind the scenes" working of this process. In this video, she summarizes what an ATS is, and is not:
An ATS is a system to keep me organized, as a recruiter. We need to actually know, at a given point, in their journey, and what I need to do next. For example, if I've got someone at the interview stage, have I set it up? At the offer stage, has the offer been approved yet? Without an ATS, I don't know what's going on. I don't know who is waiting on who, doing what thing. The ATS solves this problem.
The idea that the ATS is this mythical, genius, AI-infused tool is crazy. Anyone who has been in an ATS, and has used it for work is laughing at this idea. It's so ridiculous.
ATS Myths Busted
This section is part of Chapter 2: The Hiring Pipeline in The Tech Resume Inside Out book.
ATS systems is a term that many resume builder sites and self-proclaimed career gurus use as a root cause of your resume being rejected. Almost all claims I have read on ATSes - from "robots" rejecting up to 75% of resumes to PDF formats not being advised—are wrong. 
These misleading sites and people share two traits. First, they promote services you can purchase from them to "beat the ATS". Second, they refer to sources that are not backed by technical recruiters or hiring managers who actually use ATSes. This book does not claim that it will "help you beat the ATS", because—as we'll cover— there is no "ATS to beat" for tech resumes. And all claims in this section are backed by technical recruiters and hiring managers who configure the ATS systems and use them, day to day.
Automated ATS rejections are one of the main fallacies many sites claim. Jobscan writes: "Whether that human recruiter ever sees your resume could depend on how well your resume is optimized for ATS algorithms.". CNBC published the article 75% of resumes are never read by a human—here's how to make sure your resume beats the bots. This article only references sources from companies who make a living selling resume services and claim that they provide resumes to "beat" this system. There is no hiring manager or tech recruiter backing up the contents —good luck finding professionals giving their name to incorrect facts. Take this claim from the article:
Most applications are removed from the equation because they are not formatted in a way these systems can read and interpret - a career expert with TopResume tells CNBC.
The claim that PDF resumes are "removed from the equation" is false, and the following advice, to use a Word document as a format, is also poor advice.
Tech recruiter Katherine Dumanoir, who works at Amazon shares how humans look at resumes, often working fast, to clear the queues, and keep the process moving:
Recruiter and HR expert Christine Zuul Assaf comes to the same conclusion, when she tracked down the sources for this article:
LinkedIn collected insights from recruiters on how companies really sort resumes, including advice from Amy Miller of Recruiting in Yoga Pants, who has been a recruiter at Amazon, Google and Microsoft:
For the majority—if not all—of the tech companies, these claims are simply false. Recruiters do go through applications in the ATS interface, and will almost always scan resumes. The only time a recruiter will not look at your resume, is when there are enough other, qualified candidates and they stop processing resumes.
Knockout and prescreening questions are the one part, where there can be truth to the claim of "The ATS rejecting" a candidate. These are questions that recruiters set up and are intended to filter out people who are not eligible for the position, irrespective of their resume. For example, if a company does not sponsor visas, a recruiter might add a question to the application form saying, "Will you need sponsorship in order to work?" People needing visas will then be rejected, following the policy for the role. However, it was the recruiter who set up this rule, and the data needs to be explicitly provided by the candidate.
You can read more about how prescreening works by looking at the documentation for ATSes. Taleo calls this information gathering prescreening questions, iCIMS names them screening questions, Greenhouse refers to them as custom questions, and they go by as form application questions with Workable. In all cases, recruiters can set up additional questions to gather information from applicants, and use this in the process. Here is the example of how a recruiter could set up a knockout question for visa status, in Workable:


Setting up a knockout question in Workable. These are most frequently used to save time with candidates whom the company would not hire due to certain constraints.
For knockout and prescreen questions, you need to provide information on the job application form. This information is never taken from your resume.
ATS-compatible resumes are another fallacy. While it is true that most ATSes attempt to parse resumes, they don't use the contents to filter for anything during the screening process. Resume parsing is done to attempt to auto-fill candidate details. Resume parsing is also used to allow for boolean searching in the system later on outside the application process. However, beyond attempting to match personal details, and indexing keywords found in the resume, ATSes don't do anything clever. Both PDF and Word documents are parsed well enough. To get a sense of the type of searches a parsed resume supports, see this article on the iCIMS candidate search capabilities.
An "ATS-compatible" resume is more of a meaningless buzzword than anything else. Stating that a resume is ATS-compatible is like saying that a website is mobile phone compatible. Of course, it is. All websites are. And all resumes are ATS-compatible.
ATS resume optimization is a service several providers charge for - anywhere from $100 to $500 and beyond. They will claim that by matching the job description better, your resume will "bypass" the ATS algorithm, and a recruiter will look at your application. Claiming that there's a need to "bypass" the ATS is a false claim in the majority of cases for tech jobs. As of 2020, ATSes are still far more simple than even to understand what programming languages you've listed on your resume. Second, there is no "bypass". Your resume is in a queue, waiting for the recruiter to review.
The only popular ATS that does some type of rating based on parsed resumes is Taleo. Taleo can assign a requisition rank to your resume. This is a percentage number based on automated screening questions and your resume, and the job requisition overlapping. Recruiters can decide to sort resumes by this rank. However, this score is off for software developers. Few, if any, recruiters would rely on this to decide which resumes to look at, and which not to. None of the over a dozen tech recruiters and sourcers I've consulted have used such an automated rating to decide which applications to look at and which to pass on.
Tailoring your resume for the position is solid advice, though. This is the reason why you'd see results following ATS optimization techniques. If you tailor your resume for the job, you should see better results. The ATS itself won't decide whether to move forward with your resume: the recruiter or hiring manager scanning your resume will. They will look to determine how relevant your experience is: and they'll do this in a few seconds. As the number of applications for roles is almost always high, tailoring your resume for the position and grabbing attention with the first scan, do make a difference.
Some tech recruiters predict more automated parsing and AI-assisted decision making to come for hiring. However, this is not here just yet. Even when it will be, the outcome shouldn't be different to a recruiter doing a quick resume scan, and marking the resume with a "Yes", "Maybe" or "No" outcome.
From the inside out: what recruiters say about ATS systems
I asked technical recruiters to share some common misconceptions about Applicant Tracking Systems and explain why those beliefs are incorrect. Here a few top ones they shared:
Filtering happens with human intervention, not automatically. "The list of people in an ATS is organized by date when they applied. A real-life person then makes a decision. You can either be rejected: this can be due to not being a good fit based on your resume, or based on your answers to knockout questions. Or you progress in the process." (Amy Miller, author of the Recruiting in Yoga Pants blog, previously recruited at Amazon, Google and Microsoft)
Tech recruiters would not trust an ATS to filter out candidates, as they could lose good people. "No recruiter I know would trust an ATS with filtering, even the slightest. They don't want to risk losing otherwise perfectly good candidates. I've talked to many tech recruiters in the industry, and have never heard anyone relying on filtering based on automated parsing of CVs. The risk is too high." (Csudi Csudutov, founder of Mimox tech recruiting and tech recruiter for over 20 years)
Submit PDFs CVs and you don't need to worry about resume filtering. "ATSes are still so bad at filtering based on resume content that we get poorly formatted CVs, irrelevant profiles, or even blank pages. Personally, I suggest the best CV format being PDF. With Word documents, you risk ruining your format if the recruiter opens the document with another Word version or operating system. Agency recruiters also use Word CVs to remove your contact details to use it as business development material, so watch out!" (José Marchena, tech recruiter in London and host of the Coffee with a Recruiter podcast).
The chapter continues...
Get The Tech Resume Inside Out and carry on reading this chapter, with the sections:
Referrals: why they are so important in getting a callback from a recruiter, and how you can get them.
The priority of your resume: whether you are local, need relocation, or a visa can all matter. Learn how recruiters and hiring managers typically "prioritize" candidates.
Less competitive hiring pipelines: while big tech hiring piplelines are extremely competitive, others are less so.
Startup and small company hiring pipelines: understand how these differ from big companies, and mid-sized companies, and why cover letters might be your best shot at these places.
Mid-sized companies with HR support: learn how you might have someone read your resume who is neither a recrutier, not a hiring manager, and how tailor your resume for this use case.
... and 13 other chapters with 215 pages of content and 17 contributing experts from the tech industry in (probably) the most comprehensive resume guide for software developers and engineering managers.